222

Christmas lights listed
Welcome to Light Up Christmas 2015
Light Up Christmas is a website that shows all of the Christmas lighting displays around the whole of New Zealand.
What you will find and be able to do at lightupchristmas.co.nz: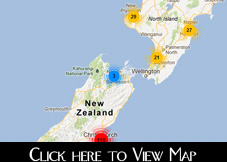 Possibly the most comprehensive list of Christmas displays in all of New Zealand
View detailed maps of where each Christmas lighting display is
Print driving directions from your home to your favourite display
View photos and videos of lighting displays
Leave a comment about Christmas lights you have seen
Give love to your favourites
Receive emails from us telling you of the latest additions
Plan your journey around town using our Trip Planner so you can drive to multiple houses without having to figure out how to get from one place to the next
Follow us on Twitter and receive updates as they happen
Go on, subscribe to our mailing list and be informed when new houses light up here on Light Up Christmas.
Merry Christmas!
The Team at Light Up Christmas
Top 5 Xmas Love
*minimum of 20 votes required to appear on this list
Your Lights Not Listed?
Can't find your lights?
Seen a house that should be on here but isn't?
Then click on the link below to get it added to the list so this can become the most comprehensive list of Christmas lights for New Zealand!
Subscribe
Get new listings sent directly to your inbox! Subscribe now.